I volunteered to write one of these "sprinkles" posts for the community, and since
zinke
already claimed my favorite subject -- arms -- I'm going to go with my second favorite subject: Lee Adama.
But wait, don't run away! I can sense many of you wanting to do that. Lee is much maligned in fandom for whatever reason (as the more "traditional" leads often are), and so I'd like to show you a little bit of
my
Lee Adama, the misunderstood guy who doesn't think he's a paragon of anything, but who really does try to do the right thing -- even if it doesn't always work out that way. So let me take you on a journey -- the journey of a man who never wanted any of this in the first place....
(Caps from bsg-caps.com)
One of the most important things to remember about Lee is that he never wanted to be a career military man.
CFR = Colonial Fleet Reserve. This is one of the tastiest throwaway tidbits TPTB have ever given us, IMO. Lee wasn't even full-time active military when the Cylons attacked (which makes you wonder what else he was doing with his time), and in
Razor
, we see him say that he's thinking of quitting all together. So here's a guy who's estranged from his dad, who's thinking of quitting even the reserve work he does for the military, and then the apocalypse happens and not only is he stuck on a ship with the man he can barely stand to be in the same room with, but he's suddenly a full-time pilot, and not just the pilot but the CAG. This? Is going to frak with your head just a bit.
Oh wait, not only are you suddenly full-time military, and the CAG, but one of your very first assignments is to blow up a ship that might be filled with civilians. Yeah, that's going to
seriously
frak with your head.
It's no surprise, then, that when he questions his actions afterward, it is Laura Roslin's more sympathetic response about carrying your hard decisions with you that gives him comfort, rather than Adama's "move on." (This will not be the first time Adama is tone-deaf to his son's needs.) Lee has never felt that ironclad commitment to the military, and thus he and Laura are much more sympatico at this time, both having been thrown into positions of responsibility which they did not ask for or anticipate.
It is this ability to question himself, his willingness to show doubt about accepted protocol, that helps make Lee a relatable character for the civilians among us. It's also this unique position that often puts him at odds with the military thinking against what he believes is right. His allegiance, at the beginning of the series, is not to the
Galactica
; in fact, it's the last place he wants to be. And so it's his own ideological compass that he clings to in the face of chaos. He may not know where he belongs, but at least he knows what he thinks is right.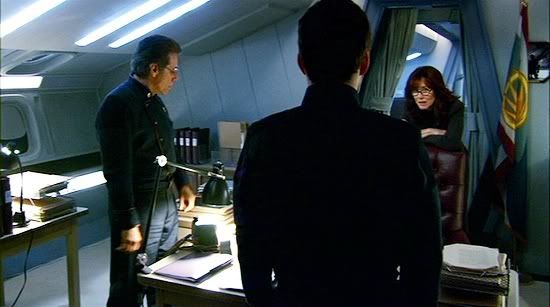 Even if it means committing mutiny at inappropriate times. ;)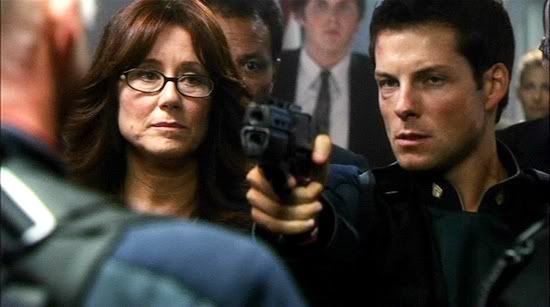 All of which is also to say that Lee's leaving the military to pursue politics is completely consistent with this worldview, to me. (It's also why quitting in "The Son Also Rises" was not all that difficult for him -- his estrangement from his father bothers him much more, IMO.) The military was never intended to be his life, and throughout the course of the series, Lee's purpose in the military, as far as he is concerned, is to defend democracy, both literally by fending off the Cylons, and more figuratively by safeguarding the seat of government. (I've always hated Dee's line that Lee is a solider who needs a war; IMO that's crap. Lee is a crusader who needs a cause, which is not the same thing.) Once he feels that being in the cockpit no longer fulfills that purpose, he moves on to a sphere where he feels he can continue to act the most effectively.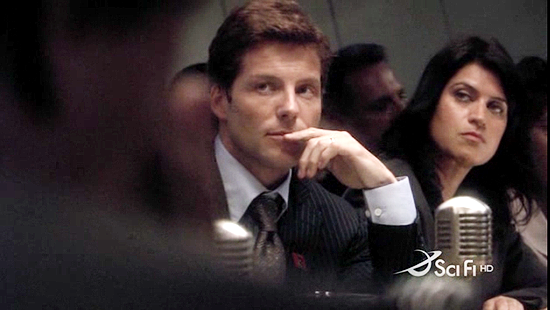 And, you know, wear a suit. *g*
This also ties in to the fact that Lee is very much a "big picture" guy -- it's why he insists that they hold elections, why he is able to sacrifice Kara in "Razor" despite being in love with her, why he is able -- initially -- to leave with the
Pegasus
while Adama stays to rescue New Caprica. Even why he is able to argue so insistently in "A Measure of Salvation" that the Cylons be exterminated. And why he was so aligned with Laura in the beginning -- she, too, was focused on the big picture of maintaining the human race, moreso than Adama who had to deal with discrete military matters. It's what makes him able to move from the military to politics and back again, that ability to see what the overarching need is, not to get as bogged down in the pettier details. Being in the political sphere contributes to the greater good, in his mind, in a way that sitting in the cockpit doesn't.
Of course, the one area where Lee is not always able to stick to what is right is the romance department. As we know, that's a bit of a mess. *g* Let's take a moment to once again assess the poor fucking guy: he was looking to get out of the military, then the world blows up and he's on the same ship as, and reporting to, the father he has a crappy relationship with, and his only friend on the ship is his dead brother's fiancee -- who he happens to be attracted to.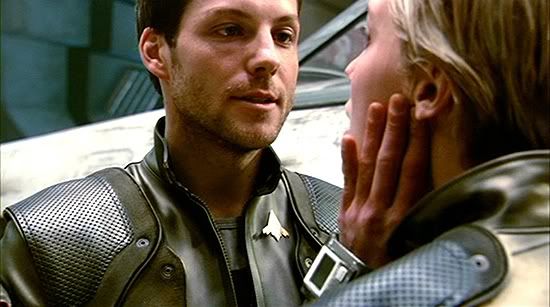 Oh yeah -- and then she goes and sleeps with someone else before he works up the nerve to do anything -- at least partly because he thinks it wouldn't be right to move in on the woman his brother almost married. Yes, Lee can be emotional, but you know what? All things considered, he's kind of entitled.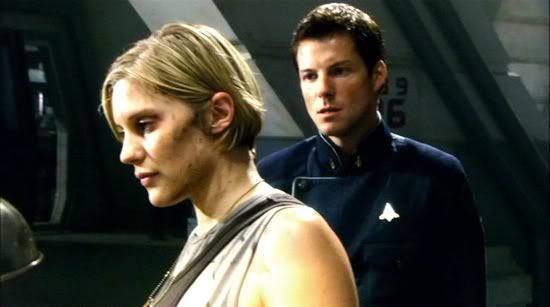 But even here, it is ultimately his sense of right that guides him, even if that's not immediately apparent: when he confronts Kara about her feelings in "Unfinished Business," it could be looked at as if what he's doing is wrong; he's essentially cheating on Dee, and putting Kara in an uncomfortable position when she is in a relationship with Sam. But to Lee's mind, he and Kara love each other, and that's what makes it right, at least on one level. That's why when Kara says after they have sex, "What do we do now?" he's incredulous. Because to him the clear, right thing to do is tell the truth -- and be together.
But Kara refuses to do that, leading to their long estrangement. And after they reconcile, that's when Lee truly does what isn't right: he has an adulterous affair with Kara.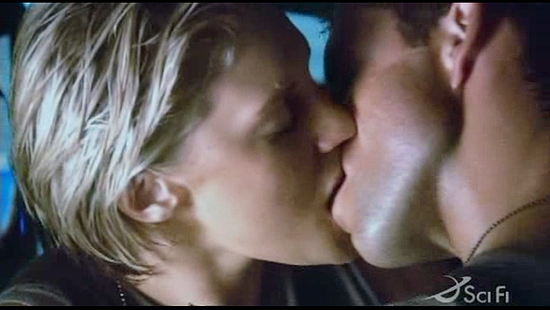 (You knew I had to get this picture in there. *g*)
But, as we see, he's torn up inside about it, and once again entreats Kara to do what is "right," for them to leave the people they are lying to with their hearts and be together. Which I am NOT saying to excuse his behavior; but then, I don't think he's trying to excuse it, either. He knows what they're doing is wrong, which is why he puts a stop to it.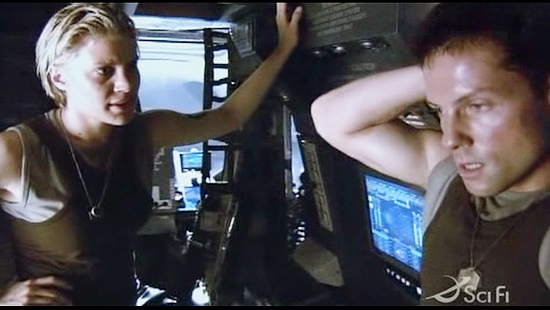 It's interesting, because Lee's critics have been known to claim that he's self-righteous -- but to me, he is
righteous
(and not in a 70s Huggy Bear kind of way), or, to be more accurate, he tries to be. And when he fails at that, which he does, and he knows it, he's the first person to beat himself up about it. He doesn't think he's perfect -- but he tries to do what is best, and knows all too well that he often falls short. But that doesn't stop him from trying harder the next time. He's the goodness in all of us, the spark that thirsts for justice and harmony, even when we know that ideal is all too difficult to attain. And, for many of us, part of his appeal is that he has no special destiny, no grander than life purpose, no mystical motives -- he's just a guy trying to do what he thinks is right, and sometimes he succeeds and sometimes he doesn't. Kind of like the rest of us. :)
For your consideration:
Do you think that Lee is meant to be the "everyman," or does he have a special purpose?
What do you think Lee's ultimate destiny is?
When Bill tells Lee in "Bastille Day" that he hasn't "picked a side," do you think that's true? Do you think it is necessary to choose sides in that situation? Was his ultimate choice a Kelly Taylor "I choose me" kind of situation?
Does Lee really try to do the right thing, or can most of his actions be chalked up to his daddy issues?
Is Kara Lee's Achilles heel? What is it about her that can make him transgress in a way no one else can?
Was Lee's decision to leave the military at the end of season three a selfish one? Do you agree or disagree that he can have a greater impact as a civilian than as a pilot?
When you think back to the miniseries, are you surprised by how far Lee and Bill have come in their relationship? Or do you still think they're stubborn jackasses? Or both?
How much do you miss Lee's arms?
Memorable Quotes:
(I may have gone a little overboard.)
Adama:
I have nothing to say to the personal representative of the President.
Apollo:
I'm still Galactica's lead pilot.
Adama:
Well, I have nothing to say to him either. Every man has to decide for themselves which side they're o­n.
Apollo:
I didn't know we were picking sides.
Adama:
That's why you haven't picked o­ne yet.
Apollo:
I swore an oath... to defend the articles. The articles say there's an election in seven months. Now, if you're telling me we're throwing out the law, then I'm not a Captain, you're not a Commander and you are not the President. And I don't owe either of you a damned explanation for anything.
Tigh:
This is mutiny, you know that.
Apollo:
Yes, I do. But you can tell my father that I'm listening to my instincts and my instincts tell me that we cannot sacrifice our democracy just because the President makes a bad decision.
Starbuck:
Well, that makes things more complicated.
Apollo:
Yeah.
Starbuck:
What are we gonna do?
Apollo:
What are we gonna do? We accept it. Tomorrow, I tell Dualla, you tell Sam.
Starbuck:
Just like that?
Apollo:
Just like that.
Apollo:
Oh, come o­n, let's get real here. You said yourself things were bad. Your marriage was failing.
Starbuck:
Yeah, but marriage is a sacrament. It's not a pyramid game, you don't -- you don't get do-overs, Lee. I made a vow in the sight of the Gods, and I'm not gonna break that.
Apollo:
You're breaking it every time we do this. Every time.
Starbuck:
Divorce is different. This is just bending the rules.
Apollo:
No, I'm sorry. I can't -- I can't… I can't live like this. Every time I look at my wife, I see my own guilt reflected in her eyes.
Starbuck:
Wow. Wow, Lee, that is really poetic of you. But you don't need to make that big of a deal out of this.
Apollo:
Well, it is a big deal, Kara. It is. It is.
Starbuck:
Great. So, I won't divorce, and you won't cheat. So where does that leave us?
Apollo:
Trapped.
Adama:
I know what you're saying. But we have a responsibility to the people that we left behind.
Apollo:
Remember what Roslin said: "Our first responsibility is to the survival of humanity." We can't lose sight of that. Over the last year, we've lost sight of almost everything. We got ...soft. But if we go back to New Caprica now, and we lose, it's over. Humanity just stops. And an Admiral's stars don't give you the right to make that gamble.
Lee:
Baltar's trial may have been the trigger, but, um... This is a feeling I've been having for a while. It's time for a change. I need to move on. I've had some feelers from the government. There's a ... position ... opening up. And I think I can make a valuable contribution there. Maybe even more than in the cockpit.
Lee:
And me? Well, where do I begin? I shot down a civilian passenger ship, the Olympic Carrier. Over a thousand people o­n board. Forgiven. I raised my weapon to a superior officer, committed an act of mutiny. Forgiven. And then o­n the very day when Baltar surrendered to those Cylons, I, as Commander of Pegasus, jumped away. I left everybody o­n that planet alone, undefended, for months! I even tried to persuade the Admiral never to return. To abandon you all there for good. If I'd had my way, nobody would've made it off that planet. I'm the coward. I'm the traitor. I'm forgiven. I'd say we're very forgiving of mistakes. We make our own laws now, our own justice. We've been pretty creative at finding ways to let people off the hook for everything from theft to murder. And we've had to be. Because... Because we're not a civilization anymore. We are a gang. And we're o­n the run. And we have to fight to survive. We have to break rules. We have to bend laws. We have to improvise. But not this time, no. Not this time. Not for Gaius Baltar. No. You, you have to die. You have to die, because... Well, because we don't like you very much. Because you're arrogant. Because you're weak. Because you're a coward. And we the mob, we want to throw you out the airlock because you didn't stand up to the Cylons, and get yourself killed in the process. That's justice now. You should've been killed back o­n New Caprica, but since you had the temerity to live, we're gonna execute you now. That's justice! This case... This case is built o­n emotion. O­n anger, bitterness, vengeance. But most of all, it is built o­n shame. It's about the shame of what we did to ourselves back o­n that planet. And it's about the guilt of those of us who ran away. Who ran away. And we are trying to dump all that guilt and all that shame o­nto o­ne man, and then flush him out the airlock and hope that that just gets rid of it all. So that we can live with ourselves. But that won't work. That won't work. That's not justice. Not to me. Not to me.
Additional Picspam:
I did one at my journal in celebration of LJ's Lee Week. It's, um, arm-focused. You can find it
here
if you haven't seen it already.
Fic recs to follow later this week. Thank you for reading!
Current Mood:
nervous